Bombing of Old Town
Information
Bombers over Old Town
Background
Edit
The bombing of Old Town is a result of a conspiracy between members of The Nine, the RAC and the Company.
The Leith Bazaar Massacre and the assassination of several members of The Nine[1] were falsely blamed on the Westerley resistance[2], giving the Company political cover to brutally crush the resistance in Old Town, much like they did in Sugar Point[3].
Aftermath
Edit
The extent of the damage and casualties in Old town is currently unknown. Alvis Akari and Pawter Simms escaped to the bunkers and Pree was among the refugees who evacuated on Lucy. The Rat King and Rena came up from the tunnels into the open air because they were tired of being below ground. Hills Oonan was last seen drinking in the Royale before he was knocked over from the shockwave from a bomb hitting a nearby building.[4]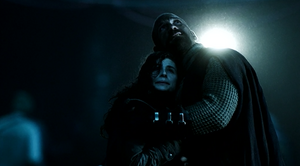 After the bombing Old Town the Company surrounded the city with a wall, much like they did with Sugar Point.[5]
References
Edit
Ad blocker interference detected!
Wikia is a free-to-use site that makes money from advertising. We have a modified experience for viewers using ad blockers

Wikia is not accessible if you've made further modifications. Remove the custom ad blocker rule(s) and the page will load as expected.