Gush is a character appearing in Season 1 of Killjoys. He is portrayed by actor Brock Johnson.
Biography
Edit
Gush is a smuggler and the Captain of the Heavy Freighter Monsoon. He was caught after stealing 200 crates of Qreshi sea salt. He also had a large cache of weapons onboard.[1]
Dutch and Johnny served a Level 1 Warrant to recover the stolen Qreshi salt, using Lucy to attempt to stop the Monsoon while Dutch snuck aboard and captured Gush.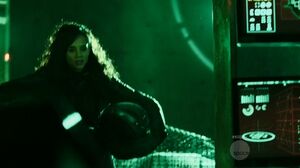 He is currently incarcerated in Westhole Prison.
Appearances
Edit
References
Edit
Ad blocker interference detected!
Wikia is a free-to-use site that makes money from advertising. We have a modified experience for viewers using ad blockers

Wikia is not accessible if you've made further modifications. Remove the custom ad blocker rule(s) and the page will load as expected.