Hacksaw Bar
Information
John and Olli in the Hacksaw Bar
"No Basics allowed in, no Basics allowed out" - Havigan[1]
Background
Edit
The Hacksaw Bar is a bar in Rat City on the fringe of the J Star Cluster, owned and operated by Havigan.[2]
The bar caters to Hackmods only, and is a place where they can go to relax without worry of being tracked by repos or the law.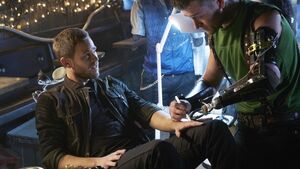 Additionally, there is a workshop on the premises where Hackmods can have their mods worked on or have new mods installed.
References
Edit
Ad blocker interference detected!
Wikia is a free-to-use site that makes money from advertising. We have a modified experience for viewers using ad blockers

Wikia is not accessible if you've made further modifications. Remove the custom ad blocker rule(s) and the page will load as expected.