Julian Doucet provides the voice of Julian in Season 2 of Killjoys.
Background
Edit
Julian is the artificial intelligence of the Administration Matrix for the Spring Hill Compound near Old Town on Westerley.[1]
John Jaqobis used Lucy to help him hack into Julian in order to gain control of the Containment Fence surrounding Old Town.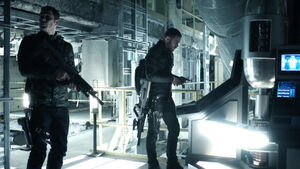 Personality
Edit
Julian has a superior attitude and can be snarky towards humans, particularly those that try to hack into his matrix.
Appearances
Edit
Julian, the Spring Hill Computer system, was voiced by and named after one of show's writers, Julian Doucet.[2]
References
Edit
Ad blocker interference detected!
Wikia is a free-to-use site that makes money from advertising. We have a modified experience for viewers using ad blockers

Wikia is not accessible if you've made further modifications. Remove the custom ad blocker rule(s) and the page will load as expected.