Leith Bazaar
Information
Aerial view
Background
Edit
Located on Leith, the Bazaar is a large marketplace where a variety of products and services can be obtained, including black market items. Anything can be found here: strange fruits and clothing are sold beside high tech weaponry and medicine.[1]
The Bazaar is made up of rambling rows lined with colorful booths and stalls, as well as larger shops and offices.
Shops in the Bazaar
Edit
The Leith Bazaar Massacre
Edit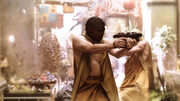 The bazaar was the site of a massacre which was attributed to the Westerley's resistance movement against the Company. Three assailants wearing the robes and face shrouds of scarback monks attacked patrons in the bazaar, killing a large number of people.[5]
References
Edit
Ad blocker interference detected!
Wikia is a free-to-use site that makes money from advertising. We have a modified experience for viewers using ad blockers

Wikia is not accessible if you've made further modifications. Remove the custom ad blocker rule(s) and the page will load as expected.