Rena is a character appearing in Season 1 of Killjoys. She is portrayed by Stephanie B. Gillie.
Biography
Edit
Rena is a tunnel rat and the sister of the Rat King.[1] She lives beneath Old Town on Westerley in the extensive complex of underground tunnels that once provided access to the old mines under the town.[2]
Rena suffers from a chronic illness and received a Blood Blessing from John Jaqobis at the request of her brother. At that time Johnny was disguised as a Scarback Monk in order to retrieve the entry codes for the bunkers under Old Town for Alvis Akari from the Rat King.[3]
The Bombing of Old Town
Edit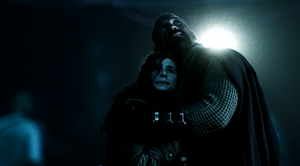 During the bombing of Old Town The Rat King and Rena chose not to go into the bunkers beneath the town. Instead they came up into the streets of Old Town to see the night sky as they were tired of living in the tunnels.
Appearances
Edit
References
Edit
Ad blocker interference detected!
Wikia is a free-to-use site that makes money from advertising. We have a modified experience for viewers using ad blockers

Wikia is not accessible if you've made further modifications. Remove the custom ad blocker rule(s) and the page will load as expected.